Oak Help Manager for the AS/400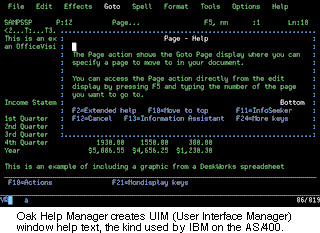 UIM Help Text Management System
Oak® Help Manager makes creating and maintaining help windows as easy as typing! Oak Help Manager creates UIM (User Interface Manager) window help text, the kind used by IBM on the AS/400. Oak Help Manager will read your display file source and prompt for help information, inserting all necessary keywords into your source and building UIM help text. The help information you supply can also be formatted and printed for professional-quality user documentation.
Oak Help Manager helps increase productivity on your system in two ways. First, Oak Help Manager allows on-line, field-level, windows-based UIM help text to be created quicker and easier than ever thought possible. Second, because help text is easier to create, there will be more of it, increasing the productivity of your users and technical staff.
Highlights
SAA compliant on the AS/400 using regular terminals or PCs.


Creates UIM window help text for display files and commands.


Calculates help area starting and ending positions.


Creates file, record and field level help text.


Creates help text for subfiles.


Simplifies hypertext linking of UIM help text.


Easily creates search indexes for UIM help text.


Inserts all help tags into your DDS source.


Uses help text to create professional-quality user documentation, with a table of contents and samples of display formats.


Powerful word processing capabilities for help text entry and update include:

Full-screen editor with over 28 commands.
PC-like word wrap while entering help text.
Add/remove words and phrases with automatic text adjustment.
Spell checker containing over 78,000 words in its spelling dictionary.

Completely native to the AS/400.


No programming knowledge required.
Technical Information
Specified Operating Environment
Hardware Requirements: Oak Help Manager requires the following minimum system configuration:
AS/400 (any model)
One display station
One printer
Software Requirements: Oak Help Manager requires the following software to be installed on the system:
Operating System/400 (5738-SS1)
Ordering Information
Oak Help Manager
Basic Machine-Readable Material: To order, specify system type/model and distribution medium:
CD-ROM
8mm tape cartridge
1/4-inch tape cartridge
1600 bpi open reel tape
This program is distributed as object code only. Media are provided by and remain the property of Oak Software, Inc.
Documentation: One copy of the Oak Help Manager user documentation will be supplied with the basic machine-readable material.
Charges: One-time charge: $995
Licensing: This program is licensed under the terms and conditions of a Program License Agreement. A separate license is required for each designated machine on which the licensed program materials will be used. A copy of the agreement is included in the program package.
Trial Period: 30 days
Order Form: To order, download this Order Form and return the completed form to:
Fax to:
(703) 642-8767
Mail to:
System Support Products, Inc.
7620 Arlen Street
Annandale, VA 22003
SSPI is an authorized distributor of Oak Help Manager, a product of Oak Software, Inc. Oak is a registered trademark of Oak Software, Inc.
---
Return to SSPI home page