For Immediate Release
Contact: Betty Forlini (703) 642-8760
DeskWorks Release 4.4 Available for AS/400
April 8, 1996, Annandale, VA -- System Support Products, Inc. announces the availability of Release 4.4 of DeskWorks® for the IBM AS/400. DeskWorks is an interactive spreadsheet program with over 4,400 AS/400 and System/36 installations worldwide.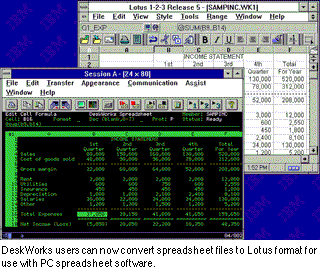 Enhancements in the new release include a new Convert DeskWorks to Lotus (CVTSPRLTS) command which provides the ability to convert a DeskWorks spreadsheet member to a Lotus® worksheet file (.WK1 format). DeskWorks users can now convert spreadsheet files to and from Lotus format while retaining spreadsheet cell values, formulas, range names, cell formatting, column widths, and graphics information.
DeskWorks for the AS/400 is currently available for a one-time license charge of $695. A 30-day free trial is available. Participants in the DeskWorks Prime Support maintenance plan can obtain an upgrade to Release 4.4 free of charge. Users covered under the basic maintenance plan will be offered the new release for an upgrade charge.
For additional information, please contact Betty Forlini, System Support Products, Inc., 7620 Arlen Street, Annandale, VA 22003. (703) 642-8760. Fax: (703) 642-8767 E-mail: sspi@ix.netcom.com
###
---
Return to SSPI home page