For Immediate Release
Contact: Betty Forlini (703) 642-8760
DeskWorks Chart Available for AS/400 and Windows
October 1, 1996, Annandale, VA -- System Support Products, Inc. announces the availability of DeskWorks&reg Chart for the IBM AS/400 and Windows PCs. DeskWorks Chart is a new client/server business graphics application.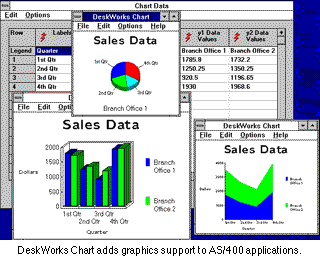 With DeskWorks Chart, users can create, change, store, display, and print charts representing data. Data values can be downloaded from an AS/400 database file or entered by the user, allowing DeskWorks Chart to be used in 'client/server' mode with a host AS/400, or as a 'stand-alone' PC application. Highlights of the new application include:
Convenient Windows interface to powerful business graphics functions and AS/400 database file and field selection.

Flexible options for defining charts. A dialog box allows the user to specify the appearance of the chart, including the chart type, style, and titles. Data labels and legends can be entered with the chart values.

Seven chart types are supported: bar charts, pie charts, line graphs, area graphs, polar graphs, Gantt charts, and High-Low-Close graphs. Several chart styles are available for each chart type, including a 3D option for bar and pie charts, vertical or horizontal presentation for bar charts, lines and symbols options for line and polar graphs, stacked data option for bar charts and area graphs, and a logarithmic scale option for line graphs.

Chart display and printing. Charts can be displayed in color, or printed on any graphics-capable PC printer supported by Windows. Color and grayscale printing are supported.

Chart storage. Charts can be saved to a file for later retrieval. The chart graphic, data values, and database linkage information are all saved.

Dynamic database access. Chart data sets can be linked to AS/400 database file fields. A Download Data menu command allows the user to update the linked columns in the chart with current data from the AS/400 database file.

Data editing capability. A Chart Data window allows the chart values to be entered and edited using a convenient spreadsheet-like grid. Users can enter new data, or work with data retrieved from a database file to perform 'what if' analyses.

Graphics export. The graphics portion of the chart can be exported to a file that can be used by other PC applications. Bitmap and Windows metafile formats are supported. A Copy menu command is also provided for copying the chart graphic to the Windows Clipboard.

Adds graphics support to AS/400 applications. DeskWorks Chart can be used to create charts from database files created by a variety of host-based applications, such as DeskWorks Spreadsheet, Query/400, and user-written applications.

Ease of operation. DeskWorks Chart has been designed to be easy to learn and use by the PC user, with a minimum of training required. Windows Help support is available for all of the application windows, menus, and dialog boxes.
DeskWorks Chart for the AS/400 and Windows is currently available for a one-time license charge of $595. The charge includes a license for one AS/400 server and an unlimited number of PC clients. A 30-day free trial is available.

For additional information, please contact Betty Forlini, System Support Products, Inc., 7620 Arlen Street, Annandale, VA 22003. (703) 642-8760. Fax: (703) 642-8767 E-mail: sales@sspi-software.com Web: www.sspi-software.com

###
---
Return to SSPI home page