For Immediate Release
Contact: Betty Forlini (703) 642-8760
Stock Calculator Release 2.0 Available for Macintosh
February 24, 2000, Annandale, VA -- System Support Products, Inc. announces the availability of Release 2.0 of Stock Calculator for the Apple Macintosh. Stock Calculator is a stock trade profit/loss and share price calculator application.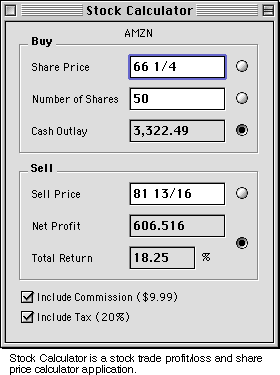 Enhancements in the new release include:
Support for saving, loading, and printing calculations.

A new optional expanded Details field shows all of the intermediate results and subtotals in the calculation.

A new per share commission option.

A new custom commission option allows advanced flexibility in defining commissions through the use of a table with user-defined ranges and rates.

New tax options that allow tax rates to be defined and subtracted from the total profit.

Support for a calculation description, which is displayed in the Stock Calculator window and is also used as a print heading.

New buy and sell date fields, that enable showing the number of days the stock has been held (also used in the tax calculation).

Complete web browser-readable documentation.
Stock Calculator for the Macintosh is currently available for a one-time charge of $15. A 30-day free trial is available for download from SSPI's web site at http://www.sspi-software.com/stockcalc_mac.html. Registered users of Stock Calculator Release 1 for the Macintosh can obtain an upgrade to Release 2.0 free of charge.

For additional information, please contact Betty Forlini, System Support Products, Inc., 7620 Arlen Street, Annandale, VA 22003. (703) 642-8760. Fax: (703) 642-8767 E-mail: sales@sspi-software.com Web: www.sspi-software.com

###
---
Return to SSPI home page