For Immediate Release
Contact: Betty Forlini (703) 642-8760
Mail Forward Available for Windows
July 2, 2001, Annandale, VA -- System Support Products, Inc. announces the availability of Mail Forward for Microsoft Windows. Mail Forward is an e-mail forwarding application.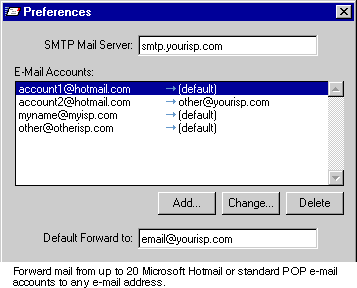 Mail Forward allows you to forward mail from up to 20 Microsoft Hotmail or standard POP e-mail accounts to any e-mail address.
Mail Forward works by accessing your Microsoft Hotmail In Box or POP mailbox and forwarding each piece of mail through your SMTP mail server. As each message is successfully forwarded, it is cleared from the Hotmail In Box or POP mailbox.
The Hotmail or POP account e-mail address is used as the return address for the forwarded mail, so if the mail is undeliverable it will be bounced back to the original account.
Mail Forward for Windows is currently available for a one-time charge of $12. A 30-day free trial is available for download from SSPI's web site at http://www.sspi-software.com/mailfwd_win.html.
For additional information, please contact Betty Forlini, System Support Products, Inc., 7620 Arlen Street, Annandale, VA 22003. (703) 642-8760. Fax: (703) 642-8767 E-mail: sales@sspi-software.com Web: www.sspi-software.com
###
---
Return to SSPI home page