For Immediate Release
Contact: Betty Forlini (703) 642-8760
Mail Forward Release 2.0 Available for Macintosh
December 27, 2001, Annandale, VA -- System Support Products, Inc. announces the availability of Release 2.0 of Mail Forward for the Apple Macintosh. Mail Forward is an e-mail forwarding application for Microsoft Hotmail and standard POP mail accounts.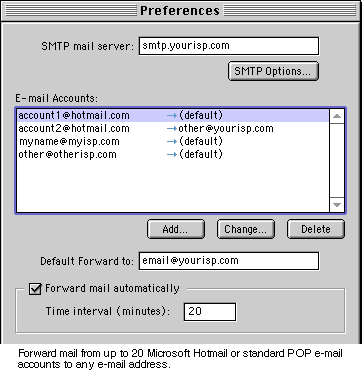 Enhancements in the new release include:
A new option to automatically forward mail after a specified time interval.

A new option to leave mail on the server after it has been forwarded.

A new User Name field allows specifying the complete login name to accommodate more types of POP accounts.

Login authentication is now supported for SMTP servers.

A new From Account field allows specifying the sending account to accommodate SMTP servers that require outgoing mail to be from an account in the same domain.

Alert boxes for POP server errors now include a button to continue to the next account.

Alert boxes are no longer system modal.

The sample scripts have been updated to accommodate new features in Rel 2.0.
Mail Forward for the Macintosh is currently available for a one-time charge of $12. A 30-day free trial is available for download from SSPI's web site at http://www.sspi-software.com/mailfwd_mac.html. Registered users of Mail Forward Release 1 can obtain an upgrade to Release 2.0 free of charge.

For additional information, please contact Betty Forlini, System Support Products, Inc., 7620 Arlen Street, Annandale, VA 22003. (703) 642-8760. Fax: (703) 642-8767 E-mail: sales@sspi-software.com Web: www.sspi-software.com

###
---
Return to SSPI home page