For Immediate Release
Contact: Betty Forlini (703) 642-8760
Mail Forward Release 2.0 Available for Mac OS X
July 16, 2003, Annandale, VA -- System Support Products, Inc. announces the availability of Release 2.0 of Mail Forward for Apple Mac OS X. Mail Forward is an award-winning e-mail forwarding application for AOL, Hotmail, MSN, and Yahoo web mail accounts. Standard POP mail accounts can also be forwarded.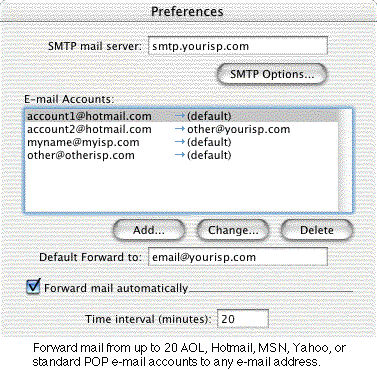 Enhancements in the new release include the ability to forward America Online (AOL) web mail accounts.
Mail Forward for Mac OS X is currently available for a one-time charge of $15. A 30-day free trial is available for download from SSPI's web site at http://www.sspi-software.com/mailfwd_macx.html. Registered users of prior releases of Mail Forward can obtain an upgrade to Release 2.0 free of charge. Versions of Mail Forward for Mac OS 7-9 and Microsoft Windows are also available.
Mail Forward for Mac OS X has been awarded a 4 out of 5 stars rating by About.com, a ChezMark "MacPick" (4 out of 5 apples), and a 4 out of 5 cows rating by Tucows Mac.
For additional information, please contact Betty Forlini at (703) 642-8760.
E-mail: sales@sspi-software.com
Web: www.sspi-software.com
###
---
Return to SSPI home page