For Immediate Release
Contact: Betty Forlini (703) 642-8760
Mail Forward Release 4.0 Available for Windows
February 23, 2006, Annandale, VA -- System Support Products, Inc. announces the availability of Release 4.0 of Mail Forward for Microsoft Windows. Mail Forward is an award-winning e-mail forwarding application for AOL, Gmail, Hotmail, MSN, and Yahoo web mail accounts. Standard POP mail accounts can also be forwarded. Enhancements in the new release include: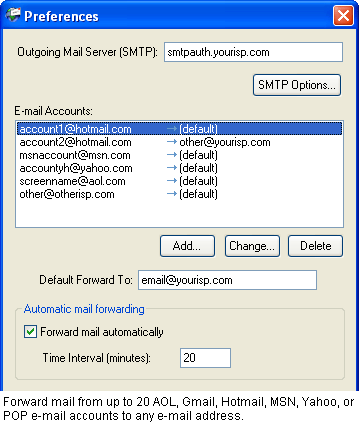 Added forwarding for Gmail accounts.

Change to Yahoo server login sequence for improved reliability.

Preliminary support for Hotmail/MSN Windows Live Mail beta accounts.

Secure Sockets Layer (SSL) connections for POP and SMTP servers are now supported.

The position of an account in the E-Mail Accounts list can now be changed by dragging the list item to a new location.

A new Enable This Account option allows forwarding to be disabled for an account without having to delete it.

Added a Get Mail command to the system tray icon pop-up menu.

Improved application responsiveness for Stop and Exit requests when a server is not responding.

Corrected a problem with mail index file contention when running in a multi-user environment.
Mail Forward for Windows is currently available for a one-time charge of $19.95. A 30-day free trial is available for download from SSPI's web site at http://www.sspi-software.com/mailfwd_win.html. Registered users of prior releases of Mail Forward will be offered an upgrade to Release 4.0 for an upgrade charge of $10. A version of Mail Forward for Mac OS X is also available.

Mail Forward for Windows has been awarded a 4 out of 5 stars rating by About.com.

For additional information, please contact Betty Forlini at (703) 642-8760.
E-mail: sales@sspi-software.com
Web: www.sspi-software.com

###



---
Return to SSPI home page