Key Holder Release 2 Available for Mac OS X
Published on 01/27/11

Annandale, VA -- System Support Products, Inc. announces the availability of Release 2 of Key Holder for Apple Mac OS X. Key Holder is a password account storage application. For each account, the account name, user, password, Internet URL, and a memo field for miscellaneous notes can be kept. The Key Holder account window is compact and can be shown in a vertical or horizontal orientation, allowing it to be kept open for convenience and easily tucked out of the way.

Enhancements in the new release include: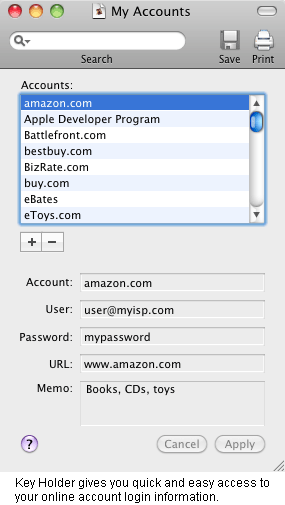 Application re-written as a Universal Binary for native execution on both Intel and PowerPC processors.
Multiple account files can now be open simultaneously.
Account window now has an optional user-customizable tool bar.
Replaced the find command with a tool bar search field that filters the account list.
Memo field size has been increased to 3 lines and now includes a scroll bar as necessary.
Memo field will expand with window size when the window is in horizontal orientation.
System Requirements:
Mac OS X 10.4 or later
Intel or PowerPC G4/G5
Universal Binary
Key Holder for Mac OS X is currently available for a one-time charge of $14.95 (USD) from the System Support Products, Inc. web site. Registered users of Key Holder who have purchased within 6 months prior to this announcement will be provided with the new release free of charge. Other registered users will be offered Release 2 for an upgrade charge of $8.

System Support Products:
http://www.sspi-software.com

Key Holder 2.0:
http://www.sspi-software.com/keyholder_macx.html

Purchase:
http://order.kagi.com/cgi-bin/store.cgi?storeID=3SS_LIVE

Screenshot:
http://www.sspi-software.com/graphics/press_rel_54_illus.gif

Application Icon:
http://www.sspi-software.com/graphics/keyholder_icon_128.png

System Support Products, Inc. has been a supplier of affordable quality software products for over 30 years, including the ICP Million Dollar Award-winning DeskWorks® Spreadsheet application for IBM minicomputers. SSPI has been continuing this tradition in the Apple Macintosh market since 1999 with personal applications like Mail Forward, Stock Calculator, and Key Holder.

###

Betty Forlini
Product Support Manager
System Support Products, Inc.
sales@sspi-software.com

---
Return to SSPI home page