Stock Calculator Release 2 Available for Mac OS X
Published on 03/11/11

Annandale, VA -- System Support Products, Inc. announces the availability of Release 2 of Stock Calculator for Apple Mac OS X. Stock Calculator is a profit/loss and share price calculator application. Stock Calculator is also ideal for performing 'what if' analyses, such as determining what share price a stock needs to attain in order to return a specified profit. When buying stock, Stock Calculator can determine the total cash outlay, per share buying price, or number of shares. When selling stock, Stock Calculator can determine the net profit amount and total return percentage, or the per share selling price.

Enhancements in the new release include: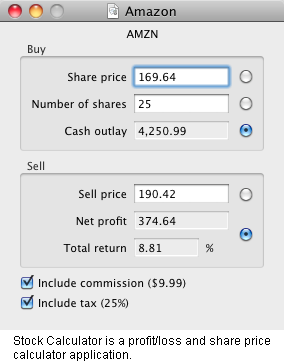 Application re-written as a Universal Binary for native execution on both Intel and PowerPC processors.
Multiple calculation windows can now be open simultaneously.
Numerous user interface updates and improvements.
System Requirements:
Mac OS X 10.4 or later
Intel or PowerPC G4/G5
Universal Binary
Pricing and Availability:

Stock Calculator for Mac OS X is currently available for a one-time charge of $14.95 (USD) from the System Support Products, Inc. web site. Registered users of Stock Calculator who have purchased within 6 months prior to this announcement will be provided with the new release free of charge. Other registered users will be offered Release 2 for an upgrade charge of $8.

System Support Products:
http://www.sspi-software.com

Stock Calculator 2.0:
http://www.sspi-software.com/stockcalc_macx.html

Purchase:
http://order.kagi.com/cgi-bin/store.cgi?storeID=3SS_LIVE

Screenshot:
http://www.sspi-software.com/graphics/press_rel_55_illus.png

Application Icon:
http://www.sspi-software.com/graphics/stockcalc_icon_128.png

System Support Products, Inc. has been a supplier of affordable quality software products for over 30 years, including the ICP Million Dollar Award-winning DeskWorks® Spreadsheet application for IBM minicomputers. SSPI has been continuing this tradition in the Apple Macintosh market since 1999 with personal applications like Mail Forward, Stock Calculator, and Key Holder.

###

Betty Forlini
Product Support Manager
System Support Products, Inc.
sales@sspi-software.com

---
Return to SSPI home page