Save Output Queue for the iSeries (AS/400)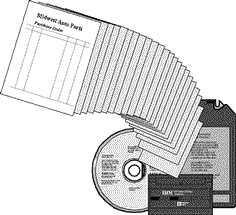 A Complete Spool File Management System for the iSeries (AS/400)
SOQ has been installed by over 3,000 customers. With that kind of experience there can be no doubt - SOQ is the spool file management system for you!
SOQ Functions
Archive and restore spool files to and from CD-R, tape, or save file.


Prepare spool files for microfiche (creates tape or diskette) or COLD (laser disc) storage.


Move spool files between systems.


Duplicate spool files.


Delete spool files.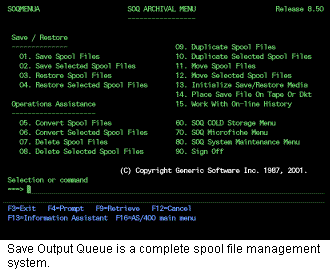 SOQ functions are enhanced by the ability to:
Group spool files by:

output queue name
job name
user name
job number
spool file name
user data
spool file status
forms type
printer file
date range
age range
or any combination!

Review and select specific spool files from a group before a function begins.


Restore and duplicate spool files to an output queue other than their original output queue.
SOQ Features
Use of IBM-provided APIs for reading output queues and retrieving spool file attributes.


Archives, retrieves, and duplicates spool files containing graphics and barcodes.


Detailed reporting by each SOQ function. Reports list all spool files affected while using SOQ.


User-specified defaults allowing you to control various aspects of SOQ.


On-line, cursor-sensitive help text.


... and many other features, too numerous to list!


Single license fee for any model of the iSeries (AS/400) - no tiered pricing!
Ordering Information
Save Output Queue

Basic Machine-Readable Material: To order, specify system type/model. Program is supplied on CD-ROM.

Charges: One-time charge: $895

Multiple system discounts are available.

One free year of maintenance service is included with the license fee.

Annual maintenance fee: $375

Licensing: This program is licensed under the terms and conditions of a Program License Agreement. A separate license is required for each designated machine on which the licensed program materials will be used. A copy of the agreement is included in the program package.

Trial Period: 30 days

Order Form: To order, download this Order Form and return the completed form to:
Fax to:
(703) 642-8767
Mail to:
System Support Products, Inc.
7620 Arlen Street
Annandale, VA 22003
SSPI is an authorized distributor of Save Output Queue, a product of WorksRight Software, Inc.
---
Return to SSPI home page